Company director search in the UK with their associations and insolvency history can be a tedious and mundane task. While it's a critical process for most financial service providers, manual work is time-consuming and error-prone.
So if you're a regular visitor to Companies House or The Gazette for:
company information
directors and their associations
insolvency notices
Then making use of automation could save you a lot of time and money.
For example, as a business loan provider (bridging, property, director's guarantee, etc.) that received a new application, you need to:
Do a company health check and due diligence
Find associated companies and insolvency history
Download latest financial accounts
Your goal for the automation is to collect this data from Companies House and The Gazette for you, and then create a task (pictured below) for a person to review the information and make a decision.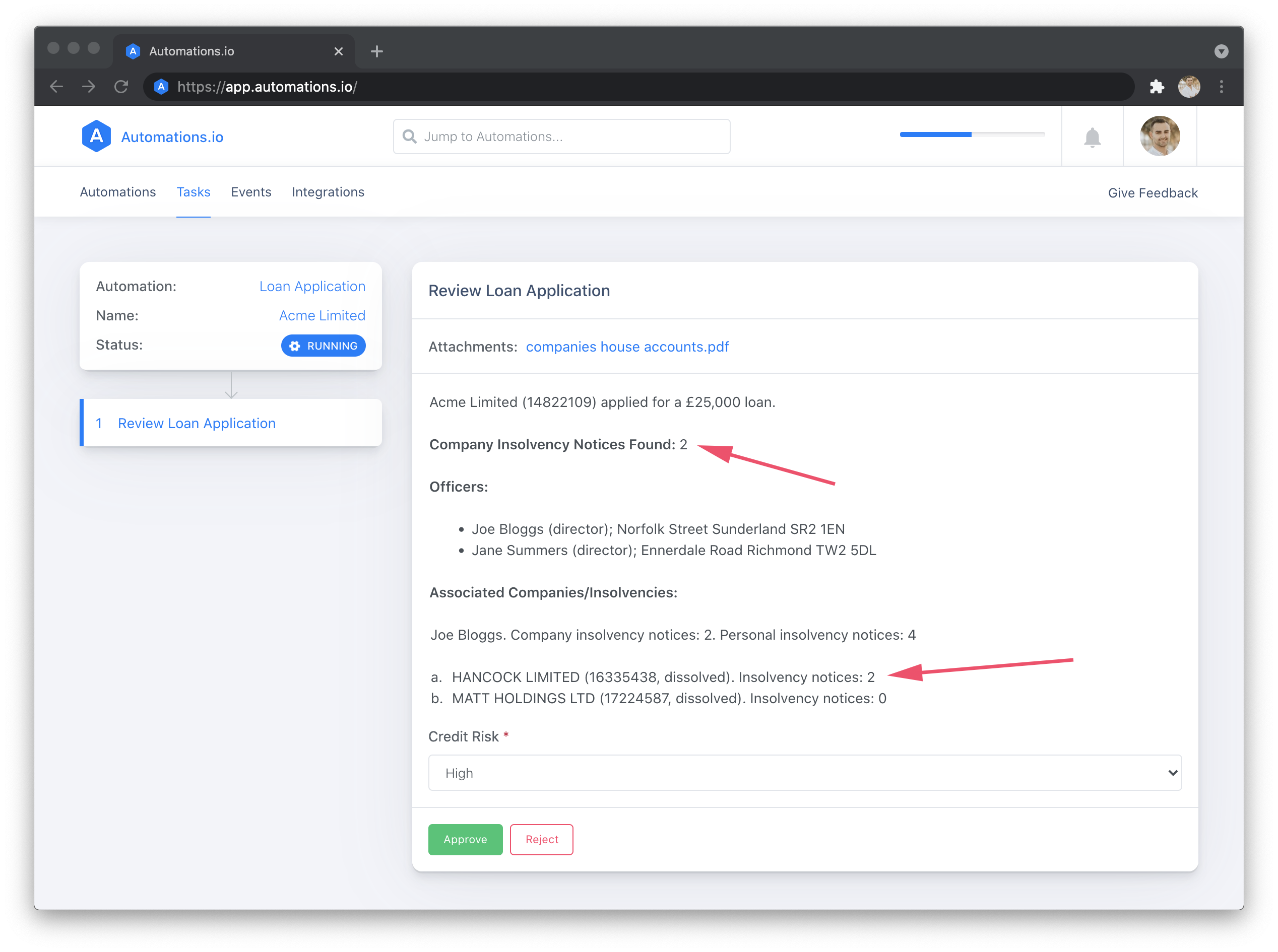 What is automation?
First thing's first. Automation will not replace people and turn your business into robots. Instead, it will automate repetitive mundane tasks and use your teams' experience and skills for the rest. We call it:
Automation with a human touch.
We're against taking away human interaction and decision making.
By connecting people, systems and business processes together, automation will make your team work smarter and more efficient, free them up from routine, low-value tasks and allow them to focus on more important work.
How to automate workflows with Automations.io
Automations.io helps lenders, brokers, and financial services teams automate work to save time and increase productivity, without losing the human touch.
The best part? You don't need any coding experience, and it takes minutes to go live. Just choose a trigger (when a loan application is received), define actions (check Companies House, The Gazette, download financial accounts, create a task to review information), and the automation is ready!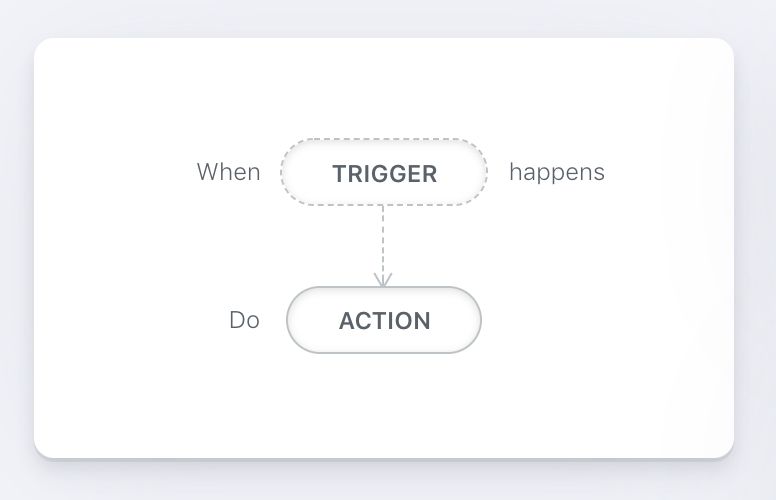 Loan application automation
Going back to our example, we'll make the automation act as a catalyst that gets us to yes/no decision making step as quickly as possible.
Whether you receive loan applications via email or straight into your CRM, the first step would be to trigger the automation to start immediately when that happens.
Once the loan application is received, we know the company number and can use that to start our due diligence.
With a few clicks, we add automation actions to find the company at Companies House, pull general information and director's associations, and check The Gazette to discover whether any company officers or associated companies have insolvency history.
We also download the latest filed accounts on Companies House and can save it to your CRM or Google Drive.
Once we have all of that information, we create a task for a person to review it and decide whether the application is rejected or it can proceed further.
Our final automation workflow looks something like this.
Final thoughts
Because it takes minutes to get this up and running, and regardless if you're a small business owner or a team member in a bigger company, Automations.io can help you save time, money and cut down on busywork.
You can also connect and integrate tools and apps you already use. From CRMs, to credit check agencies, spreadsheets, Mailchimp, Slack, Google Drive, and many more.
With 100s of hours saved for our customers already, you're just 15 minutes away from starting your automation journey.